LOST  LINDENBERG
Frankfurt Guest Collective goes Bali, Indonesia
BOOK NOW
We have lost ourselves. On a deserted, black lava sand beach, in high, foaming waves, in a deep jungle of palm trees and sweet melancholic thoughts. We are in Pekutatan, in the west of Bali, where mountains explode, the sun blazes above the sea, and the  LOST LINDENBERG digs its roots deep into the sand. This is the fourth LINDENBERG project, this time in Bali, Indonesia – impossibly far from Frankfurt. "With Bali as our first international destination, we deliberately wanted to subvert expectations. Our foundations for the project were the remoteness of a plot of land surrounded by temples, and an eternally long, unspoiled lava sand beach, all far from Bali's usual tourist infrastructure. No all-inclusive Bali resort, honeymoon kitsch, no infinity-pool-Insta-architecture, no yoga dogma, no spa cheesyness, no luxury villa, no typical beach resort, no compromises. Instead, pure Bali nature, shared surfing, the greatest little adventures, immersion in a fascinating Indonesian culture, a communal dinner table, and homegrown pineapples," says Denise Omurca, one of the creative forces behind the project who is based in Bali, Indonesia. There have been many questions during the conception phase of LOST LINDENBERG. Such as: Why have a private pool when you have the whole ocean in front of you? Why a villa when you have the cosiest tree house bungalows? Why check into one of the usual luxury hotels when you can have an independent Beach resort? Why choose a luxury resort over the greatest luxury: silence? Why eat avocado bread in Bali when you can have the richest Balinese food culture? Why being obsessed with Spa hotels if the most important wellness treatment is spending time in nature?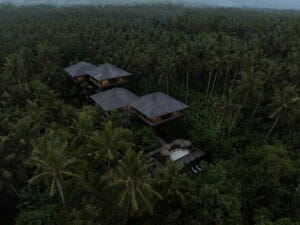 The LOST LINDENBERG opened in July 2022 in Bali, Indonesia. Although there are only eight rooms in the resort, these are meticulously planned by not only one, but as many as two prominent Bali based architecture firms, Studio Jencquel and Alexis Dornier, both sharing the client's vision of melancholic seclusion. Architect Alexis Dornier explains, "Our core values in the architecture are hard-to-forget
experiences amongst the palm trees, a flying village, community, and attention to detail.
In Indonesian, Rumah Panggung means 'houses on stilts'. These interconnected and
intertwined yet separate residential units play with the tension between community and
retreat, togetherness and solitude. The merging of traditional-looking roof silhouettes
with contemporary design, a play of light through the treetops".
Designer and architect Maximilian Jencquel adds "The concept for the architecture interiors and landscape was composed into a dramatic operetta, taking visitors through a melodic journey
that begins with a "senza tempo" on the streets of Pekutatan, Bali, through all melodic
stages of a musical score, ending at the beach with the "andante" of the crashing waves".
As with the other LINDENBERG hotels, the guest collective experience is set around communal areas and a swimming pool at the beachfront facing the Indian Ocean. Unpretentious. Close to nature, surrounded by tropical gardens. Philanthropic. With the perfect sea views and its own waves in front of the door, and only a stone's throw away from the world famous surf break, Medewi, Bali, Indonesia. The small, vegan restaurant uses only Balinese vegetables and fruits, some of which are homegrown. If the papaya does not come to us, we go to the papaya.
Bali and other Indonesian islands are full of luxury hotels, ultra-luxurious beach resorts, beachfront hotels, budget-friendly boutique hotels and luxury villas with private pools. Free Wi-Fi, activity-packed programs, resort Bali with a spa, hotels with a private beach, all-inclusive adult-only resorts are very popular search requests when it comes to Bali tourism. With LOST LINDENBERG, we target a different set of criteria. Yes, we are located on beautiful Bali beach with stunning ocean views, yes we do have spa facilities with a swimming pool, yes you feel like in a state-of-the-art Bali resort, but we hope like in a pure one. Remoteness, simplicity and silence rule here, you do not have to fear an all-villa luxury world. If you search for "hotels in Bali" or "resort Bali", you will find a number of beautiful hotels. But if you search for a unique mix between sustainable co-living and surf, social responsibility and high end design, remoteness and friendship you should come to us.
To us, luxury means growing your own mango's in front of your door, having the Indian Ocean beachfront right next to you, being surrounded by Balinese tropical gardens, having a simple, but high quality Balinese spa and swimming pool and being surrounded by the best people.
Luxury hotels and Balinese-inspired villas with infinity pools and influencers who pose in Beach Clubs and Bali resorts will probably still flood our instagram feeds. But deep in our hearts we know, that we are seeking for the real deal.
In a nutshell:
– Call it a resort or a retreat, LOST LINDENBERG is a one of a kind place with a true connection to the sea and nature.
– Bali Luxury means to us, to be remote and in a peaceful area that respects the local culture and nature.
– Yes, we do have our own private Beach, but to us it is important that locals still have access to it.
– Our open-air common spaces invite guests to leave their rooms and enjoy dolby surround nature.
– We encourage our guests to surf at our own beach! Also we offer other water sports activities.
– Our pendant to a Balinese luxury villa are top-notch designed tree houses.
– You won't find instagram pictures of infitinity pools or cheesy Spa moments: we prefer the true Bali experience.
The one and only Bali experience, for Balinese people and those who want to become one: Holla at lost@thelindenberg.com or  BOOK NOW.